Renting the iMRS Professional System from the PEMF Centre
It's hard to put a price on health and vitality, but we all know that sometimes the finances are not immediately available for major purchases. Equally, it's sometimes good to be able to try out a product before you buy outright.
Trying before you buy – if that's an available option – can often be a good strategy and has a number of benefits.
To that end, the PEMF Centre offers a PEMF rental option whereby you can experience how a high-quality PEMF system works, and what it can do for you specifically.
Our rental solution is based on the iMRS Professional Set. On this page you'll be able to find out the details on how you can rent a system before making a full purchase.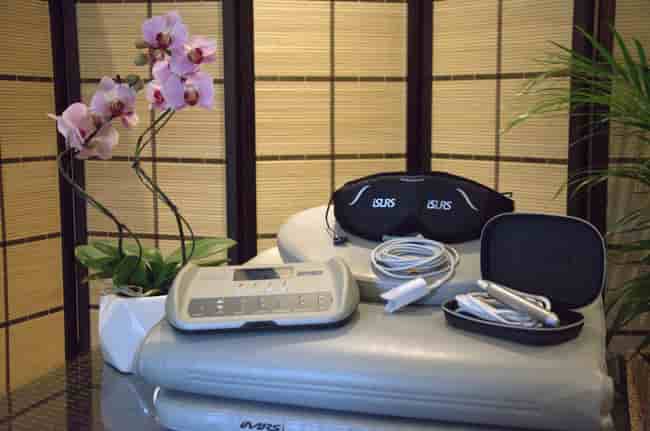 Cost to rent the system for 28 days
The cost to rent one of our systems for a 28-day period is £ 350 with a £ 200 refundable security deposit. When you have the system, we can add an additional week's rental over the phone at a pro-rata rate or extend for an additional full month and you will be invoiced for the additional period.
Please note the contraindications which would prevent you using a system are epilepsy, pregnancy, cardiac arrhythmia, and electronic implant. iMRS/ PEMF does not diagnose, treat, or cure any disease or condition. We do not give any medical advice from the PEMF Centre any medical concerns you have should be addressed by your health care provider.
Specification of the system
The system we rent is the iMRS Professional set. This includes minute-by-minute settings, intensities sensitive to 400, and the iGUIDE – a suggested list of intensities to support over 300 different conditions.
The iSLRS sound and light relaxation system (headset and separate goggles) and the iMORE (biofeedback system) reads your HRV and adjusts the PEMF delivery to give you a session based on your personal requirements.
Today in the iMRS prime range the equivalent system is the iMRS prime Expert set. The iSLRS is now the Exagon Brian and the iMORE is the Exagon Sense.
Wellbeing Evaluation and PEMF Application Programme included
Included in the cost of your rental system will be a personal PEMF application programme depending on the condition you are looking to support and general guidance for use for other family members who may wish to use the system. You will receive a follow up call in two weeks to see how your sessions are going and to discuss any adjustments to your PEMF programme.
Opportunity to try before you buy and see PEMF daily application benefits
If you see the benefits of daily PEMF sessions to support your health and wellbeing with the iMRS Professional system set, you will enjoy all the new enhancements of the new iMRS prime range with its new operating platform and various upgrades/ enhancements. Renting a system from the PEMF Centre allows for immediate PEMF support/ therapy and the ability to experience the technology before investing in your own system.
Pre-payment required before collection and security deposit required
All systems must be arranged in advance for collection and payment is by Credit or debit card via the SumUp platform or by bank transfer following an invoice from the PEMF Centre which must be paid before the system is collected. Your security deposit is returned by bank transfer once the system has been checked back into the PEMF Centre.
iMRS Professional SET collection and return from PEMF Centre only
We cannot courier systems due to the high cost of the system, insuring for transport. The systems must be checked in on a return to the PEMF Centre to ensure that all aspects of the equipment are in full working order as they were when they were checked out of the Centre.
Hygiene and additional COVID measure to protect everyone
We have always followed strict hygiene procedures which have been enhanced during Covid. Therefore, we ask you to clean every part of the system as you pack to return to the PEMF Centre. When you return you unpack the system and show it all operates, then we will clean and pack again after you leave the Centre.
Security/proof of identity and insuring the system whilst in your home.
We will require proof of identity so would ask that you email in advance a copy of your driving license, passport, and recent utility bill of your home address where you will use the PEMF system.
If you go ahead, you should scan and email these so that the contract can be prepared in advance of your arrival at the PEMF Centre for collection. We try to ensure you are not here longer than is necessary. We ask that you phone your home insurers to put the iMRS on cover whilst in your home in case of theft, fire, or damage.
Household renting should be non-smoking environment
.
You will need to confirm on booking the system that you are a non-smoking household as unfortunately, we cannot rent systems where there are smokers in the household.
Recharge your cell batteries without going on holiday
.
Using PEMF daily will give you that much-needed charge to your battery – your cells. Let your cells have a holiday in their own home sleep better, see your aches and pains dissipate in many cases, improve your health wellbeing and vitality and all you do is lie down for 8 minutes a couple of times a day minimum but more if your cells just cannot get enough of the "feel-good factor".
I or one of my team look forward to welcoming you to the PEMF Centre in Hertfordshire to collect your system during your collection appointment where you will be shown how to work the easy-to-use system